Phrathat Doi Kong Mu Temple
Phrathat Doi Kong Mu Temple is a great view point to see the whole city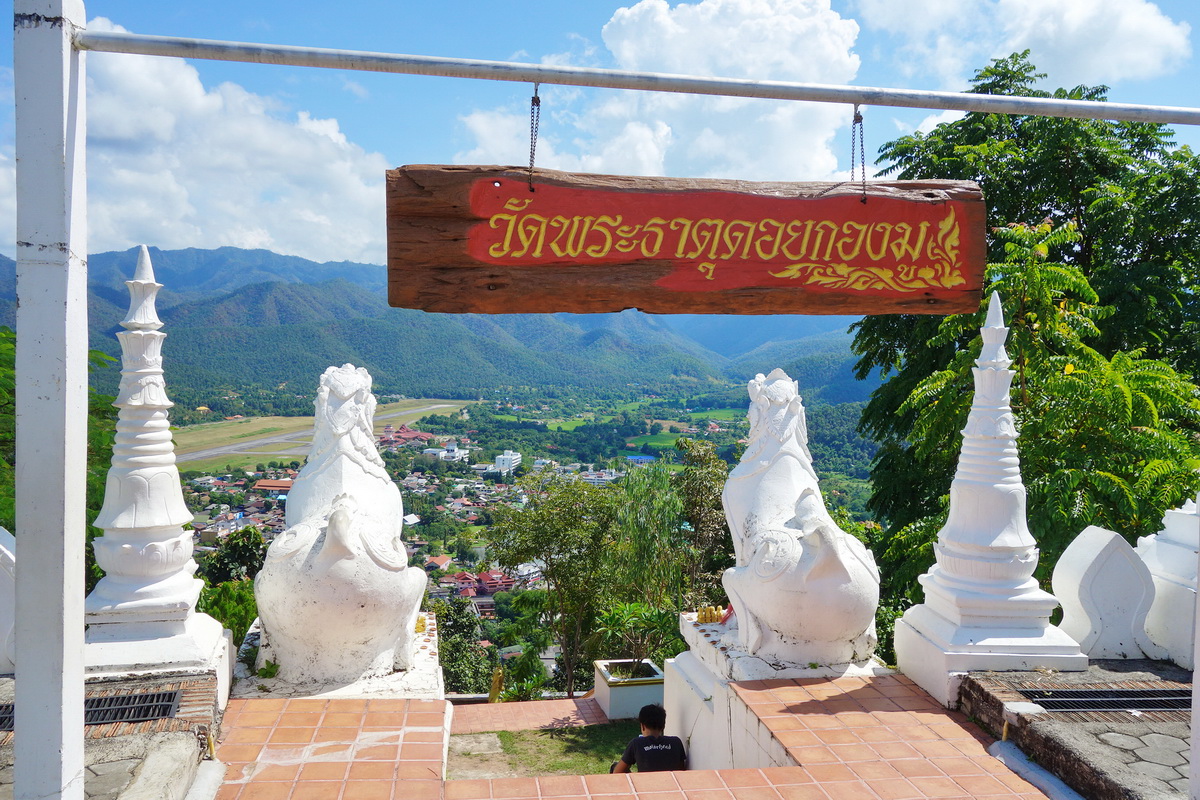 Phrathat Doi Kong Mu Temple is the oldest and most significant landmark of the province, it stands a top Kong Mu hill, and hence can be seen from anywhere in town. Formerly named "Wat Plai Doi". A visit to Mae Hong Son isn't complete without a trip to the hilltop temple of Wat Phra That Doi Kong Mu.
The view of the sea of fog that collects in the valley each morning is impressive; at other times you get wonderful views of the town and surrounding valleys.
This temple holds many annual festivals on special occasions, such as New Year's Day, Song Kran's Festival, Loy Krathong Festival, the Buddhist Lent Ceremony
Phrathat Doi Kong Mu Temple itself is quite impressive, it has very beautiful two Burmese-style Chedis.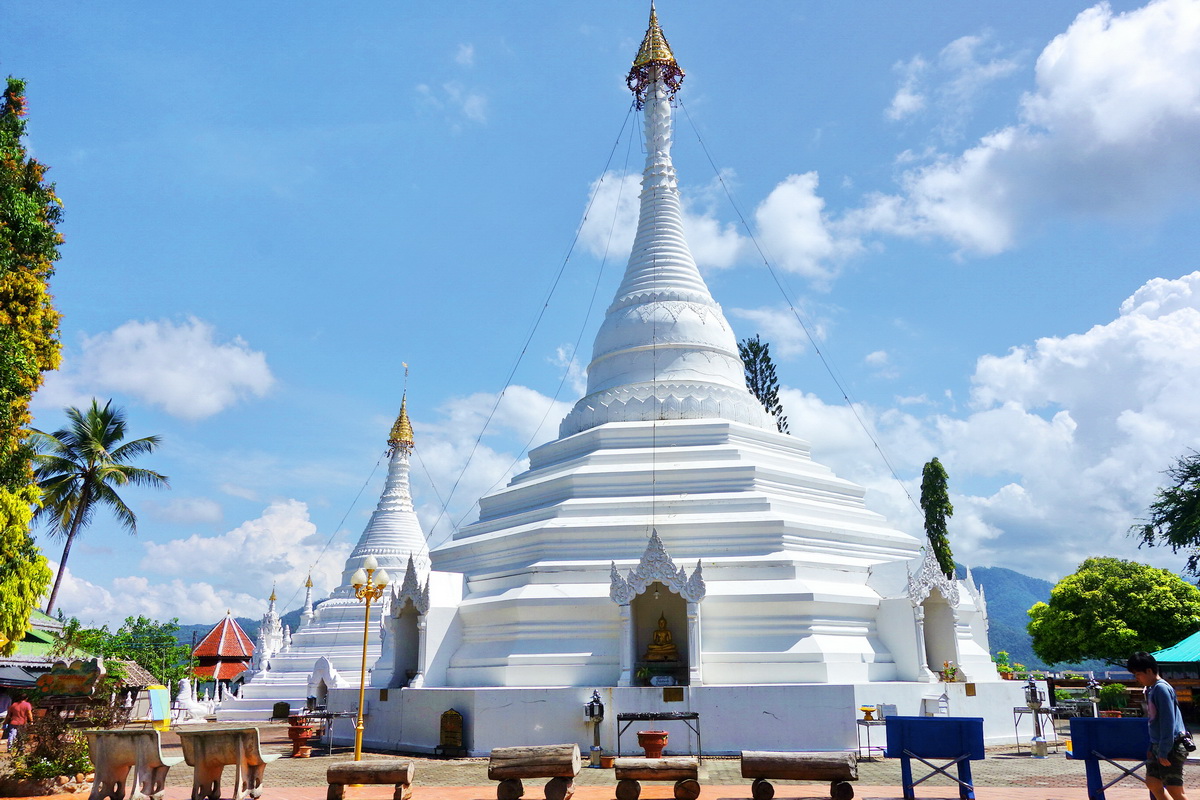 The larger Chedi was built in 1860 and contains the relics, brought from Burma, of Phra Moggalana, one of the chief disciples of the Lord Buddha. , by the builder named Chong Tong Su and Lek, his wife.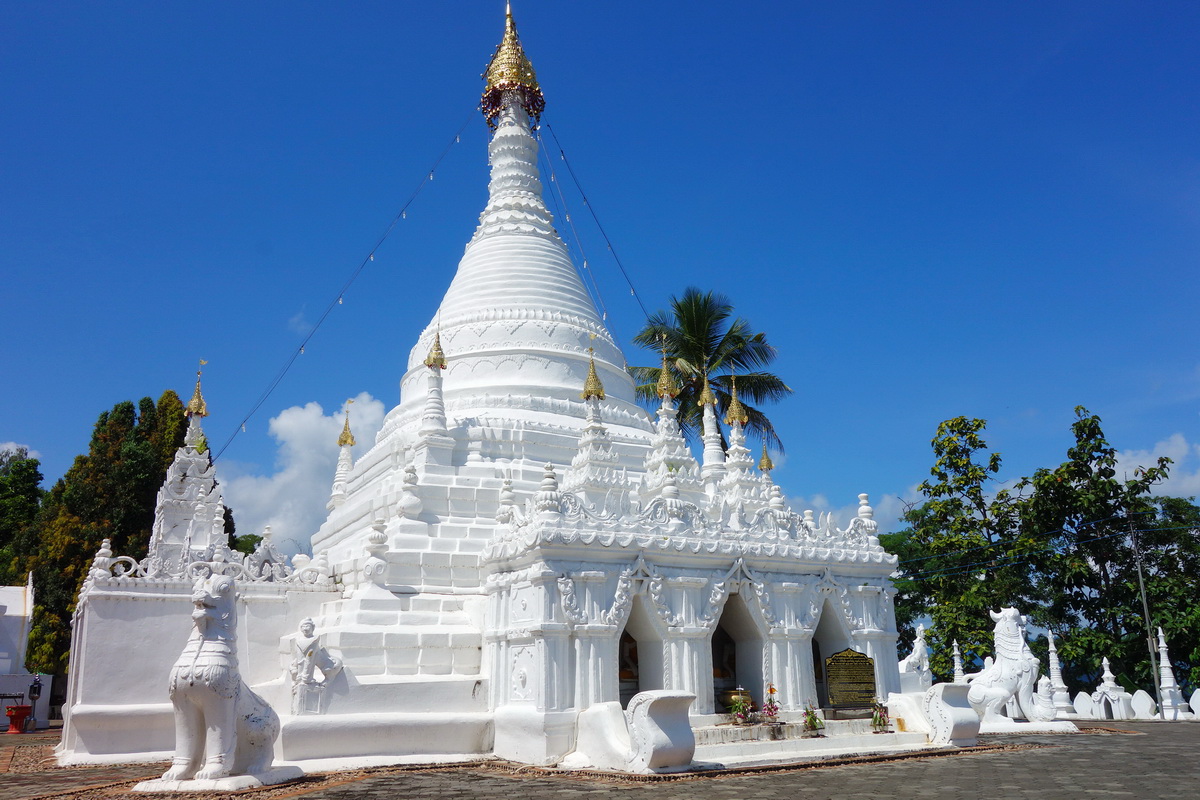 The smaller one was erected in 1874 by the first governor of Mae Hong Son, Phraya Singhanat Raja and contains ashes of him. A statue of Phraya Singhanat Raja is located at the foot of Doi Kong Mu.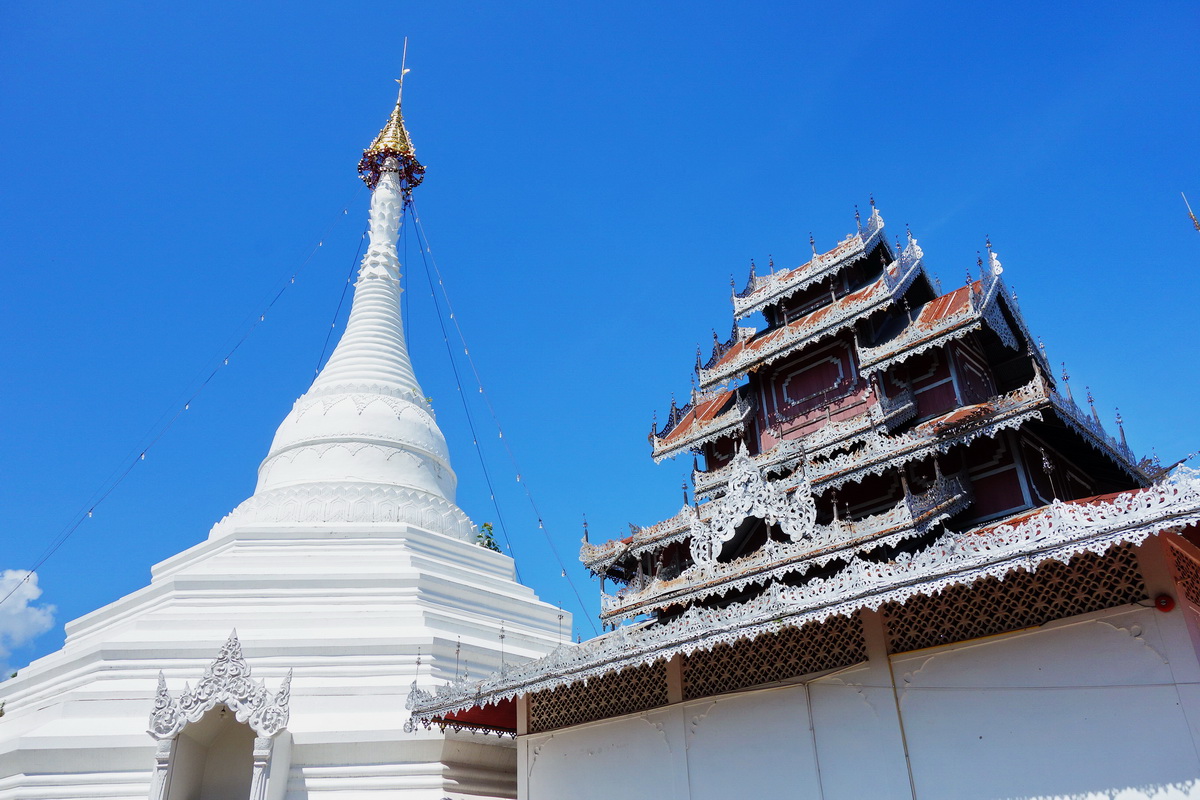 Attached to the larger of the two chedis is a small, simple viharn, an assembly hall with a very ornate, multi tiered Burmese style roof comprising of several sections. Attached to the roofs ends are delicate Burmese style ornamental work metal sheets. Behind the two pagodas is a large open-fronted viharn that contains the altar.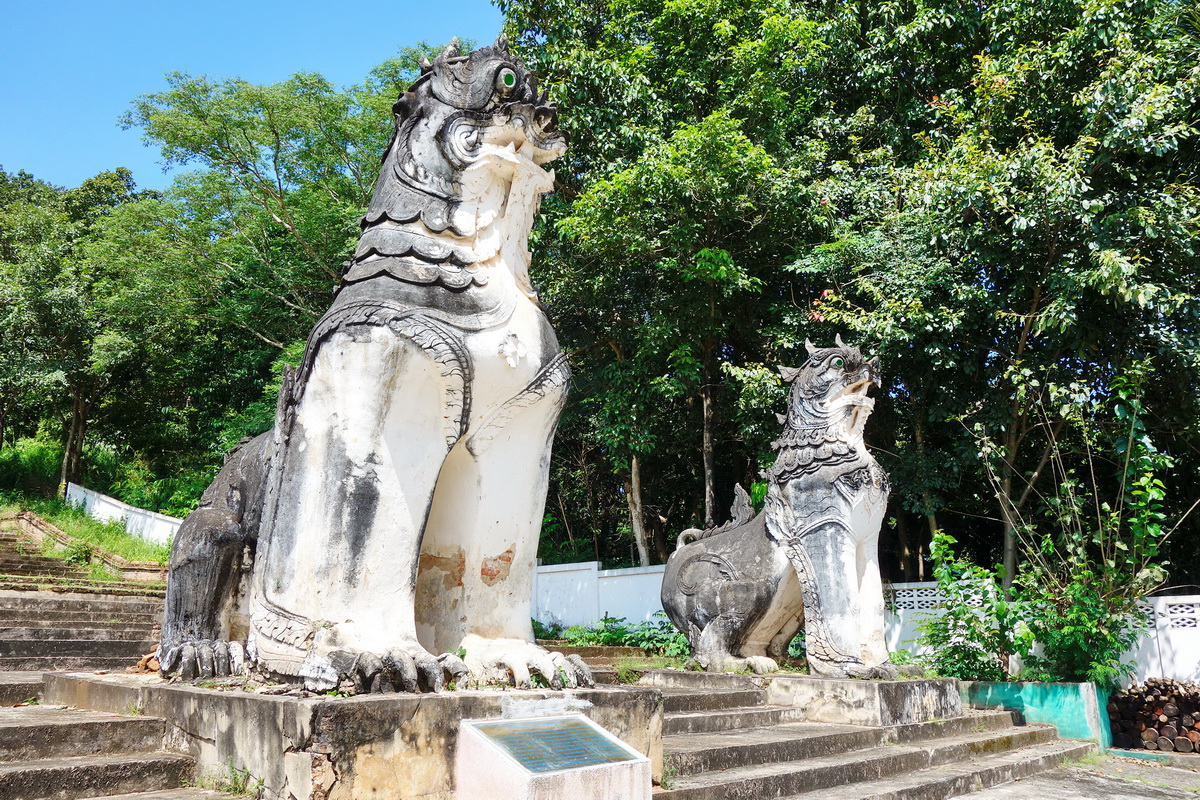 Walking up to the hill top on the stairway is truly a delightful experience. While ascending to the hill top, visitors will encounter two enormous lion statues that are carved out of stone in Burmese style. The lions are present to guard the path that leads to the temple.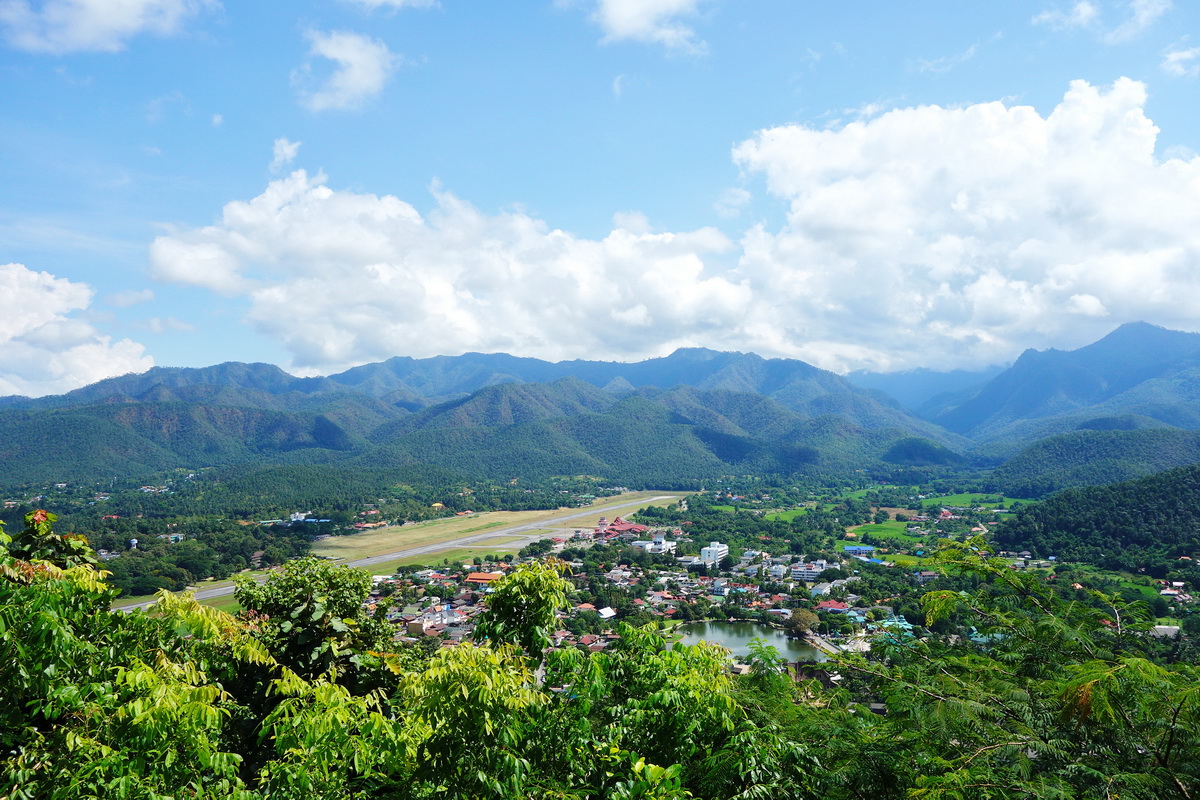 Getting to Phrathat Doi Kong Mu Temple :
Phrathat Doi Kong Mu Temple is located on top of Doi Kong Mu hill, almost one kilometer West of Chom Kham Lake and Mae Hong Son town. Reaching the temple on foot means taking one of two paths. From Wat Phra Non, a stairway leads halfway up the hill and then joins the other path which starts at Wat Muo Taw. This second path is a little easier, as it consists mostly of a zig-zag of ramps with only short stairways at the switch-backs. There are also covered rest stops at each corner. However, If you don't feel like a climb. You can use a motorcycle or a car to reach the temple. Near the carpark is a small coffee shop and souvenir shop.
Entracce Fee : Admission is free
Opening times : Phrathat Doi Kong Mu temple opens daily during daylight hours.