Mae Hong Son Airport
Mae Hong Son Airport & Pai Airport 'Where to go and what to do' 
Is it your first time in Mae Hong Son? Is it your first time of arriving at the two airports? If your answer is yes, then maybe you need a little help, a little information. You will want to know your ways in these two airports, Mae Hong Son Airport and Pai Airport. So, you will know where you can go and what you can do.
Let's start with Mae Hong Son Airport first…
Mae Hong Son Airport is on Nivetpaisarn Road, which is in Muang County. The airport is not very large. It has a 2000-metred runway. In the past, there were many airways on service. But nowadays, there are only two airways at the airport, consisting of Nok Air and Bangkok Airway.
The airport itself has two floors, containing arrival zone and departure zone. The building doesn't look very glorious, but it looks nice and simple. The way around isn't complicated at all. You don't have to worry about losing your way.
Like many other airports, Mae Hong Son Airport has some facilitites for its passengers, so that passengers can pass their time during waiting for their flights.
You can get some snack, soda, sausage, bread, cake or package food, at a convenient store. You may be a little bit hungry if you go to the airport to early. Just eat some before the arrival of your plane.
Or, you can sip a nice cup of hot coffee, or have a bite of some dessrt at a coffee shop.
If you're very hungry, then head for a restaurant. You can find one in the airport. Just order a large dish and eat it all. But don't eat too much, as you should spare the space in your stomach for those snack on board too.
Don't forget to buy little items and give it to your love oness. You can go to a souvenir shop and choose one, maybe a little key chain or a photo.
Lastly, if you forget to bring cash with you, you can go to any ATM in the building and withdraw your money from your account. That's super convenient.
How to get to Mae Hong Son Airport:
You will want to drive along the Highwat No.108. But if you worry about finding a parking lot, then leave your car at your shelther. You can just hail a vehicle from your shelther or somewhere else instead. The airport is easily accessible. So, just tell the driver where you want to go.
Address: Khunlumprapas Chong Kham, Amphoe Mueang Mae Hong Son, Chang Wat Mae Hong Son 58000
Phone: 085 361 2057
---
Next, let's move to Pai Airport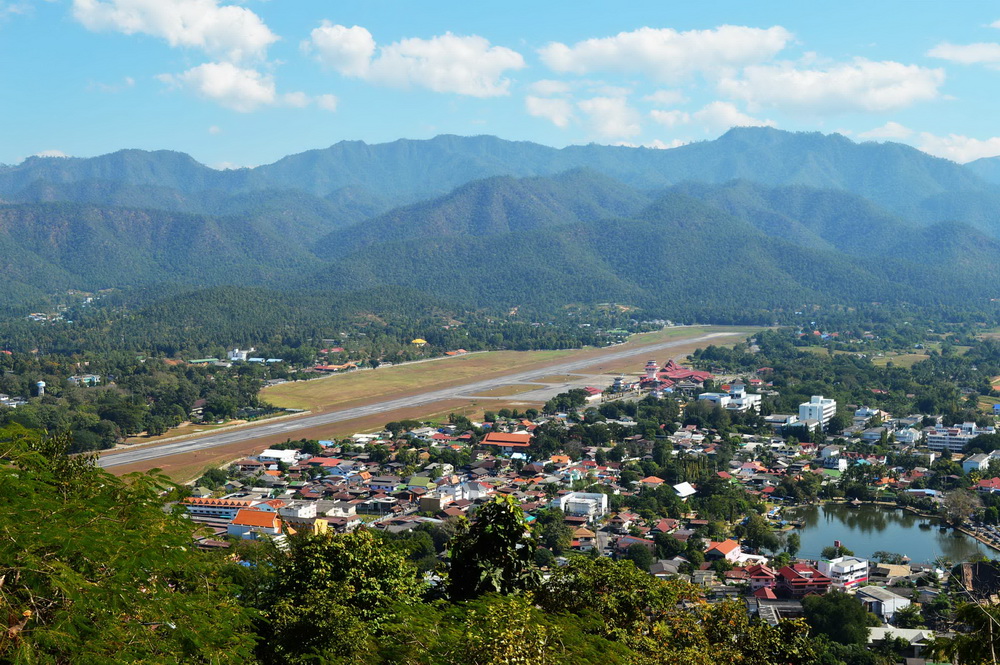 Surely, you all know Pai County. All tourists must have heard this name, at least. It's a very popular tourism county in Mae Hong Son. The name has appeared even in the Thai movie 'Pai In Love'.
Now, if your purpose is to visit Pai County only, that's convenient, because you can fly directly to Pai Airport. You don't have to arrive in the heart of Mae Hong Son first to travel to Pai later. Nah, that's a waste of time.
Pai Airport is quite small, really. It's only about 115,200 square metres large. This isn't a modern or glorious building at all, but it doesn't look old or rugged. It's just about the small size, but its appearance isn't bad. In fact, the airport is a semi-open-air building. That means you don't have to lock yourself in an air-conditioned hall all the time, but you can still inhale the fresh smell of the air into your lungs.
Put in another way, this airport is quite lovely. It doesn't have to be luxury like many other airports, but it has its unique identity.
Anyway, the airport isn't very convenient. First, it doesn't have any parking lot for you. Also, it doesn't have many shops.
How to get there:
Now you know that Pai Airport doesn't have any parking lot, so you don't want to drive your own car there. Instead, you should hail a public vehicle or any vehicle from you shelther to give you a ride. It won't be difficult. Just ask the driver whether he/she is able to give you a ride or not.
Address: 1095 Local Road, 4024 Wiang Tai, Amphoe Pai, Chang Wat Mae Hong Son 58130
Phone: 053 699 209